set up a complete skateboard
To put a complete skateboard together you will need
1 skateboard deck
1 sheet of skateboard griptape
8 skateboard bolts (phillips or allen) and fitting skateboard nuts
(2 riserpads or shockpads)
2 skateboard trucks (probably with 4 washers each)
4 skateboard wheels
8 skateboard bearings
(4 spacers)
and the following tools:
a 3/8 inch socket wrench
a ½ inch socket wrench
a 9/16 inch socket wrench
an 1/8 inch allen key or phillips screwdriver
or
an all-in-one skateboard tool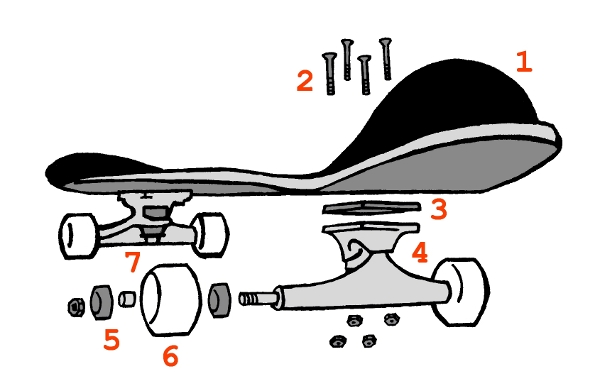 1) GRIPTAPE ON DECK
As this is probably the most difficult and time consuming step when setting up a complete skateboard it has it's own tutorial.
2) BOLTS ON SKATEBOARD DECK
Take your skateboard deck and push your skateboard hardware through the eight holes you have punched in the griptape before.
3) RISERPADS ON BOLTS
If you use skateboard riser pads or shock pads for your skateboard set up just slide them onto your 8 skateboar bolts.
4) TRUCKS ON BOLTS (RISERPADS)
Slide your complete skateboard trucks onto your skateboard hardware with the bushings facing each other. Then put the skateboard nuts on the skateboard bolts and tighten them with the 3/8 inch socket wrench for the nuts and the phillips screwdriver or the allen key for the bolt heads. Tighten them until all skateboard bolt heads are level with the top of the skateboard deck.
5) BEARINGS IN WHEELS
Never try to hammer skateboard bearings into a wheel as you might seriously damage them!
The easiest way to get your skateboard bearings into your skateboard wheels is by using the skateboard trucks: Remove the nuts from the ends of the truck axles and slide a bearing onto the axle of one of your skateboard trucks. Now use the leverage between your skateboard and your hand and push the skate wheel onto the bearing until it is secured. Remove the skateboard wheel and slide a second bearing onto the truck to repeat the process.
If your skateboard bearings come with spacers don't forget to place them between the skateboard bearings inside the skate wheel.
6) WHEELS AND BEARINGS ON TRUCKS
Skateboard trucks usually come with four so called washers (or speed rings) per truck: These small metal rings create a better seat of the wheels on the axle and reduce friction making the skateboard wheels spin faster.
Slide a washer onto the axle followed by the skateboard wheel and then another washer.
At last put the axle nut back on the axle and tighten them with a ½ inch socket wrench until the skateboard wheel is snug. Then loosen the nut back off about half a turn so the skateboard wheel spins freely.
7) FINAL ADJUSTMENTS
Before you go skating you might want to check the turning of your skateboard trucks. By tightening or loosening the kingpin nut you can make your skateboard trucks turn more or less, whatever you prefer.